Do You Have A Project We Can Help With?
Limit Switch VG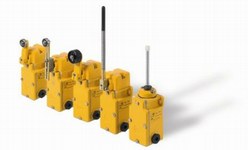 APPLICATION
Kiepe Limit switches are designed for a maximum of safe operation under severe conditions. (i.e. conveyor lines, unloaders, bulk handling systems …)
The switch eclosure consists of corrosionresistant aluminium alloy. All external parts are either of stainless steel or have been specially plated. All VG-types are fitted with snap acting switching elements.
TECHNICAL DATA
Device complies with:
EN 60947-5-1
VDE 0110 – Degree of Pollution: 2 (interior). 4 (exterior)
EN 60204
Enclosure: Aluminium alloy GK-ALSi 12
Finish: 2 – Component DD – tile enamel, yellow
Fastening: By means of 2 oblong holes for M6 bolts
Cable entry: 3 x M20 x 1,5
Protection: IP 65 to EN 60529
Rated insulation voltage Ui: AC 380 V / DC 440 V
Earthing: Within enclosure, M5
Admissible ambient temperatures 1):  – 25 °C … + 70 °C
Switching elements: Snap acting switches
Number of contacts: 1 N. C. + 1 N. O. or 2 N. C. + 2 N. O.
Conventional thermal current Ith: 10 A
Breaking capacity Ie / Ue: 5 A / AC 250 V
Operation per hour: 1500
Connections: Screw clamp terminals for a wire gauge of 2,5 mm2
Mechanical life: 0,5 x 106 switching cycles
Switching point: At approx. 10° vertical
Options: Ventilation duct to avoid condensation