Do You Have A Project We Can Help With?
Kiepe Standstill Monitor Electro-Mechanical Operated Rotation Sensor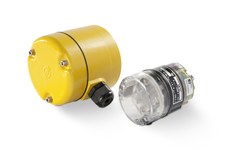 APPLICATION
These robust units are designed to detect shaft rotation, stoppage or reversal and have applications in all industries employing rotating machinery.
Their high reliability and negligible maintenance requirements make them especially suited to materials handling systems in continously operating plants.
OPERATION
The rotation sensor incorporates a magnetic slip coupling which induces rotation in a further magnet enclosed in a liquid filled capsule. This carries the contact operating pin. As the shaft rotates, the operating pin moves one or the other contact depending upon the direction of rotation.
The exact point of contact operation depends upon the selection of magnetic and fluid couplings and the adjustment of contact spring pressure.
Increase of speed above the operating point causes the magnetic and fluid couplings to "slip" without reducing contact pressures. This makes the unit suitable for low speed detection and high speed continuous operation without damage.
Rotation sensors are suitable for direct drive from rotating shafts. However, they must not be subject to end thrust or excessive vibration. The three couplings shown in this leaflet are especially recommended to cater for shaft misalignment and also to simplify installation.
Where direct drive is not possible the sensors may be driven by belt or chain drive; in this case the heavy duty bearing version should be used to cater for the additional side thrust.
For conveyors the belt drive unit type "B" may be used. This is driven by a plastic roller in direct contact with a rubber or textile belt. An alternative rubber roller is available for roller conveyors.