Do You Have A Project We Can Help With?
Kiepe Speed Monitor SWE compact opto electronic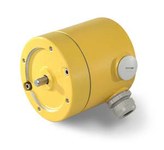 GENERAL
The electronic rotational speed monitor SWE-compact comprises constructively the opto-electronic pulse transducer, the speed analyzing relay and the power supply in one unit. By this compact form of construction, the connecting wires between the pulse transducer and the analyzing relay which are susceptible to interference considering the usual electronic speed monitoring systems, are eliminated. Only the supply voltage as well as the cables for the voltage-free output relay contacts need to be connected to the SWE-compact.
Electronic rotational monitoring of underspeed, control of slip, stand-still monitoring.
INSTALLATION AND OPERATION
The unit has a separate chamber containing the connection terminals, the knob of the set point potentiometer, the LED as well as the knob of the start-up delay potentiometer.
If the drive speed exceeds the pre-set operating speed, the relay is energized and the LED is lit. If the drive speed falls below the pre-set operating speed, the relay drops. The LED is extinguished.
An opto-coupler can be provided instead of the output relays.
The SWE-compact has the same fixing dimensions as the approved devices type SWS, DKS and EOGS. All the couplings and accessoires of the devices can be used.
For conveyors, speed monitoring can be effected directly from the conveyor by means of the SWE-compact with coupled conveyor monitor stand and belt drive "B".
Decisive features of the SWE-compact are:
Interference proof transmission of signals even over extremely long distances, simple and cost-saving setting up, monitoring of lowest rotating speeds (stand-still monitoring) and, above all, its compact construction especially planned for the operation under very rough service conditions.
TECHNICAL DATA
Device complies with: EN 60204; EN 50178-94; EN 50081-1; EN 50082-2
Supply voltage: 230 V ± 10%, 50 … 60 Hz (other voltages on request)
Reset differential: ≦20% from cut-out speed to cut-in speed
Trip point accuracy: <2 %
Start-up delay: 0,5 … 15 sec., adjustable
Pick-up time: Of the output relay is 200 ms after the cut-in of the actuating supply voltage
Ambiente temperature: – 20 °C … + 70 °C
Mounting position: Any
Protection: IP 65 according to EN 60529
Cable entry: 2 x M25 x 1,5
Housing material: Aluminium alloy GK-AISi 12
Output contact: Single pole changeover gold plated contacts
Contact ratings Ie / Ue: 2 A / AC 230 V