Do You Have A Project We Can Help With?
Conveyor Belt Misalignment Switch MRS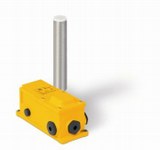 APPLICATION
Kiepe Belt Misalignment Switches MRS are used in conveyor installations for monitoring the true running of conveyor belts. Constructed from fibre reinforced plastic and stainless steel the MRS, being resistant to ammonia can successfully operate in extreme and harsh environments such as salt mines, composting, recycling plants as well as harbour areas.
The stainless steel roller (30 mm diam.) permits the monitoring of fast running conveyors up to 5 m/s. Standard features include two self cleaning switching elements
TECHNICAL DATA
Device complies with: EN 60947-5-1
Housing: PBT GF20; yellow, similar to RAL 1004
Mounting: By means of two M6 bolts
Cable entry: 3 x M25 x 1,5
Protection: IP 67 according to EN 60529
Ambient temperature: – 25 °C … + 70 °C
Switching system: 2 self cleaning changeover contacts
Switching points: 10° and 25°
Excursion: 75° max.
Rated Insulation Voltage Ui: 230V
Rated impulse withstand voltage Uimp: 2.5kV, Degree of pollution III
Conventional thermal current Ith: 6 A
Switching capacity:
AC-15: 230 V / 1,5 A
DC-13: 60 V / 0,5 A
Enclosure Protection: IP 67 according to EN 60529
Connections: 2,5 mm2 max.
Weight: 0.8 kg
Ordering code: 91.063 294.001
Note: The devices may be used in control circuits only!