Do You Have A Project We Can Help With?
Belt Misalignment Monitoring of Bucket Elevators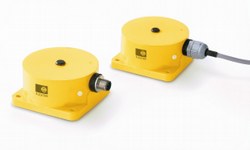 APPLICATION
Kiepe Sensors of types SBW 501/2 und SBW 601/2 are used in bucket elevator installations for monitoring the true tracking of the belt. Designed for buckets made of stainless steel and aluminium they are especially suitable for the food industry (e. g. sugar).
Despite its small size of only 80 mm diameter the sensor provides an operating distance of up to 70 mm adjustable by means of a small potentiometer.
INSTALLATION
One pair of sensors is located near the headpulley on the forward side and the other near the tailpully on the return side. They are fixed on a plastic mounting plate (dimensions: 210 x 210 mm), which covers a hole in the elevator wall of at least 160 mm, defining the metal free zone. The mounting plates should be placed in such a way that the active area of the sensor is fully covered by the bucket's side.
SETTING
The switches are pre-set by the factory at 70 mm. The presence of a bucket is indicated by an integral LED, showing interruption  of the oscillating field. The trip point is adjustable by means of a potentiometer.
TECHNICAL DATA
Switching distance sn: 70 mm, non flush mounting, the active area must be completely covered
Hysteresis: 10 % sn max.
Ambient temperature: – 20 °C … + 70 °C
Supply voltage: DC 10 V … 30 V
Output circuit:
SBW 501/601: PNP, N. O.
SBW 502/602: PNP, N. C.
Load current: 200 mA max.
Metalindication: LED
Protection: IP 67 according to EN 60529
Housing: Crastin
Connection:
SBW 501/502: 2 m cable (PVC), 3 x 0,5 mm2
SBW 601/602: M 12-connector
Ordering codes:
SBW 501: 94.046 510.501
SBW 502: 94.046 510.502 S
BW 601: 94.046 510.601 S
BW 602: 94.046 510.602
Mounting plate: 96.048 808.001