Do You Have A Project We Can Help With?
Belt Conveyor Pull Rope Switch Type PRS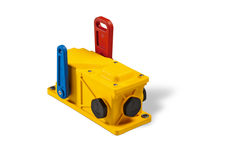 APPLICATION
Kiepe pull-rope emergency stop switches type PRS are used in accordance with the requirements of EN 620 as well as BGI 710 and in conformity with DIN EN ISO 13850 as emergency stop devices as supplementary safety measures on conveyor belt systems. The pull rope is symmetrically tensioned on both sides of the red release lever.
The exclusive use of glass fiber reinforced plastic and stainless steel is designed especially for applications in harsh environments such as potassium salt and rock salt factories, seaports and urea, recycling and composting facilities.
With the pull-rope system functionally aligned, the emergency stop signal can be triggered over a distance of up to about 100 m for each switch.
Kiepe pull-rope emergency stop switch types PRS comply with Machinery Directive 2006/42/EC. They must only be used in control electrical circuits. The PRS glas fiber reinforeced plastic housing offers space for 2 NC and 1 changeover contact. The versions PRS 101/102 use also a NO contact for a signal lamp.
Taking into consideration the safety data and maintenance recommendations, the pull-rope emergency stop switch type PRS can be used in safety circuits in accordance with DIN EN IS0 13849 up to Performance Level c (PLc).
FUNCTION
The pull-rope emergency stop switch is actuated by a pull rope 1 connected on both sides of the red release lever.
The switching of the pull rope switch is controlled by a cam and supported by a spring function (snap action). The self-cleaning contacts are actuated simultaneously and it may be carried out a cross comparison of the contacts of an external control unit.
The emergency stop signal is performed with positive-making normally closed (NC) contacts in accordance with the closed circuit principle.
After the emergency stop function is triggered, the switching mechanism is locked in the shut-off position "0". The signal lamp in the lid of PRS 101 or 102 is switched on. When the blue reset lever is actuated in switch position "1", the switching contacts are reactivated, the signal lamp is off and the conveyor belt is prepared for being turned back on again.
Resetting the pull-rope emergency stop switch must not cause the conveyor system to start up.
TECHNICAL DATA
Designation: Pull-rope emergency stop switch type PRS – emergency stop device with latching function.
Type of actuation: Bidirectional; spring-loaded ("snap action")
Complies with: DIN EN ISO 13850; DIN EN 60947-5-5; DIN EN 60947-5-1;
Suited for: Control units and systems in accordance with DIN EN 60204
Mechanics
Material: 
Enclosure : PBT GF20; yellow (similar RAL 1004)
Release lever: red (similar RAL 3000)
Reset lever: blue (similar RAL 5010)
Mounting: 2 reinforced holes for M6 screws.
Installation position: horizontal, tilt angle up to about 15°.
Pull-rope length: up to approx 100m.
Actuation force: 30 N ± 10 N
Weight: 0.5 kg.
Electrical System
Switching system: PRS 001 2 cam operated positive opening Switches, 1 changeover contact (SPDT) PRS 101/102 additionally 1 N.O. for lamp.
Cable entry: Threaded holes 3x M25 x 1.5 with each dummy screws, 1x cable gland enclosed (sealing area ∅ 9 mm to ∅ 17 mm).
Utilization category: 
AC-15: 230V / 1,5A
DC-13: 60V/ 0,5A
DC-13: 24V/ 2A
Connection cross section: 1 mm2 to 2.5 mm2.
Protective conductor connection:no connector; Protection class I
Rated insulation voltage Ui: 250V
Rated impulse withstand voltage Uimp: 2.5 kV, degree of pollution III
Conventional thermal current Ith: 6A
Contact reliability:> 1,000,000 switching operations.
Signal lamp: 4x LED in the lid
Voltage Ub for signal lamp:
PRS 101: 230 V AC
PRS 102: 24 V DC
Current consumption of lamp: approx. 20 mA
Ambient conditions in accordance with DIN EN 60947-5-5
Permissible ambient temperature: -25°C.. + 70°C
Protection Rating: IP 67 in accordance with EN 60529
Safety data in accordance with DIN EN ISO 13849 and EN 61062
Safety functions: Emergency stop incl. latching. Manual reset.
Usable in safety circuits: Up to PLc (depending on customer application)
B10d-value: 10.000 actuation's
At vero eos et accusamus et iusto odio dignissimos ducimus qui blanditiis praesentium voluptatum deleniti atque corrupti quos dolores et quas.