Do You Have A Project We Can Help With?
Pull Rope Emergency Stop Switch Type PAS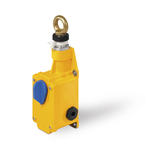 APPLICATION
Kiepe pull-rope emergency stop switches type PAS are used in accordance with the requirements of EN 620 as well as BGI 710 and in confirmity with DIN EN ISO 13850 as emergency stop devices as supplementary safety measures on conveyor belt systems. The pull rope is tensioned on one side of the actuating shaft.
The devices are suitable primarily for indoor use and applications where the ambient temperature varies only in a small range. With the pull-rope-system functionally aligned, the emergency stop signal can be triggered over a distance of 30 m.
Kiepe pull rope emergency stop switches type PAS comply with Machinery Directive 2006/42/EG. The device must only be used in electrical control circuits.
The PAS plastic housing offers space for 1 SPDT and 1 N.C. contact. Taking into consideration the safety data and maintenance recoomendations, the pull rope emergency stop switch type PAS can be used in safety circuits in accordance with DIN EN ISO 13849 up to Performance Level e (PLe).
FUNCTION
The emergency stop signal can be activated by pulling or breaking of the pull wire or by pushing the blue emergency stop button when the switch is correctly adjusted. The spacer tool* helps to find the correct operating position for a proper work and has to be removed after adjustment.
The microswitches are actuated by a spring supported cam disc at the same time. The emergency stop signal is performed with positive-making normally closed (NC) contacts in accordance with the closed circuit principle. After the emergency stop function is triggered, the switching mechanism is locked in the shut-off position "0". The blue reset button can only be removed to positon "1", when the actuating shaft is back in operating position.
In position "1", the switching contacts are reactivated and the conveyor belt is prepared for start up the belt conveyor but shall not cause the start up.
TECHNICAL DATA
Designation: Pull rope emergency stop switch type PAS emergency stop device with latching function.
Type of actuation: Pull and wire-break detection; snap action, single-side rope installation.
Complies with: DIN EN ISO 13850; DIN EN 60947-5-5; DIN EN 60947-5-1;
Suited for: Control unsits and systems in accordance with DIN EN 60204
Mechanics
Enclosure: PBT yellow; RAL 1004
Reset button: IXEF; blue, similar to RAL 5010
Mounting: 4 x M6
Pull rope length: Up to 30 m
Weight: 0.4 kg
Electrical System
Switching system: 1 SPDT, 1 N.C.; cam operated, positive-making snap-action switches
Cable entry: 3 x M20x1.5 threaded holes with 3x dummy screw; 1x cable gland; Sealing area Ø 6 mm … Ø 12 mm
Utilization category: Ue/Ie:
AC-15: 230 V / 1,5 A
DC-13: 60 V / 0,5 A
DC-13: 24 V / 2,0 A
Connection cross section: 1 mm2 … 2.5 mm2
Rated insulation voltage Ui: AC 250 V
Rated impulse withstand voltage Uimp: 2.5 kV, degree of pollution III
Conventional thermal current Ith: 6 A
Contact reliability: 10 million switching operations (mechanically)
Ambient conditions in accordance with DIN EN 60947-5-5
Ambient temperature Protection: -25°C.. + 70°C
Rating: IP 65 (EN 60529)
Safety data in accordance with DIN EN ISO 13849 and EN 61062
Safety functions: Emergency stop incl. latching Manual reset, Wire-break-detection
Usable in risk zone: Up to PLe (depending on customer application (DIN EN ISO 13849))
B10d-value: 10.000 actuation's
At vero eos et accusamus et iusto odio dignissimos ducimus qui blanditiis praesentium voluptatum deleniti atque corrupti quos dolores et quas.